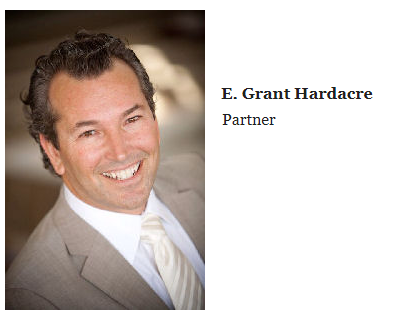 PROFESSIONAL BACKGROUND

Grant is certified by the State Bar of California as a specialist in estate planning, trust and probate law. California attorneys who are certified as specialists have passed a day-long written examination, demonstrated a high level of experience in their specialty field, fulfilled ongoing education requirements, and have been favorably evaluated by other attorneys and judges familiar with their work. Only these attorneys can identify themselves as certified specialists in California. Only about 200 of the nearly 190,000 active licensed attorneys in California are certified as specialists in his field in Los Angeles County.

As an assertive and creative litigator, Grant has successfully resolved disputes both in and out of the courtroom for over 25 years. Highly respected by his peers, Grant expertly answers questions about trusts, probate and estate planning. He has served for over 20 years as a court appointed attorney representing the interests of the elderly and incompetent in conservatorship proceedings.  Grant has helped countless families and individuals pass millions of dollars of wealth to future generations.And he also represents private professional fiduciaries in probate matters.

Grant has substantial experience in the fields of family law, personal injury, business law and corporate law, with a sub-specialty in the formation of loan out corporations for members of the motion picture and television post-production community, including Academy Award winning film editors and sound mixers.

Due to his broad experience with different areas of law, Grant achieves the best possible outcome for his clients. He is constantly deepening the knowledge of his specialty. In summary, Grant is a teacher at heart who enjoys explaining the complex area of wills and trust in terms nearly anyone can understand – even opposing counsel when necessary.
EDUCATION

Whittier College School of Law, J.D. (1991)
UCLA, B.A.- English Literature (1987)
ADMITTED

California State Bar (1992)
PRACTICE AREAS

Family Law
Estate Planning
Trust
Probate Law
Personal Injury
Business Law
Corporate Law
Formation of Loan Out Corporations (Specifically for member of the motion picture, television post-production community including Academy Award winning film editors and sound mixers.
PERSONAL INTERESTS

Grant is a California native born in Orange, California. He is devoted husband and father. He has surfed both local waters and around the world most of his life and enjoys beach volleyball. He is a co-founder and multi-term President of the Association of Surfing Lawyers, Inc. (ASL), a non-profit bar association composed of attorneys and law students dedicated to the causes and concerns of surfers and beach goers. He has lectured numerous times on probate and estate planning law at mandatory continuing legal education seminars sponsored by the ASL.